Evocative Clients Now Gain Access to TOWARDEX's High-Speed Network and IX Platform in Boston
Boston, MA ‐ April 4, 2023 ‐ TOWARDEX, a Boston-based network provider specializing in data center interconnections, high-bandwidth fiber optic communications and operator of the Massachusetts Internet Exchange (MASS IX), today announces a new partnership with Evocative, a global provider of Internet infrastructure.  Through this collaboration, Evocative BOS1 clients in Boston benefit from the addition of TOWARDEX as a new carrier at the data center, gaining direct access to MASS IX with over 66 network peering partners and its newly built underground telecommunications conduit system known as the Hub Express System.  TOWARDEX offers substantially increased network carrier options in the greater Boston/New England market.  The company's high-bandwidth fiber optic network provides data center and colocation interconnection capabilities including the MASS IX and the Hub Express System, a fiber optic corridor that provides a hyperscale network of underground conduits to accommodate installations of more than 135 additional fiber optic cables by telecommunications carriers.
Evocative operates a global network of 20 carrier and cloud-neutral data centers including colocation facilities in 11 U.S. markets and global Points of Presence (PoPs).  Evocative's Boston data center, BOS1, provides mission critical services to support their customers in New England's largest city.
"We are pleased to expand the TOWARDEX ecosystem to Evocative BOS1, enabling their clients with our fiber network services along with direct access to the hundreds of networks and ISPs available through our IX and massive conduit system," said James Jun, Chief Operating Officer of TOWARDEX.  "When our market succeeds, we succeed.  Partnering with a company that shares in our collaborative vision of bringing faster and easier accessibility to Boston's Internet and data center communities is an ideal outcome."
"The Hub Express System is a revolutionary utility project for Boston's interconnected data center communities and partnering with Evocative is a natural fit," said Gavin Schoch, General Manager of TWDX Infrastructure.  "We've created an open access utility environment that allows easy entry into Boston's leading and world-class data centers for all telecommunications providers, while expanding capacity and increasing business opportunities for network providers."
"Providing a greater diversity of carriers and connections to our Evocative client base is of the utmost priority," said Steve Rubin, Vice President of Network Engineering at Evocative.  "We are aligned with TOWARDEX in their vision of building for the future and are excited about what this partnership means for our Boston based customers."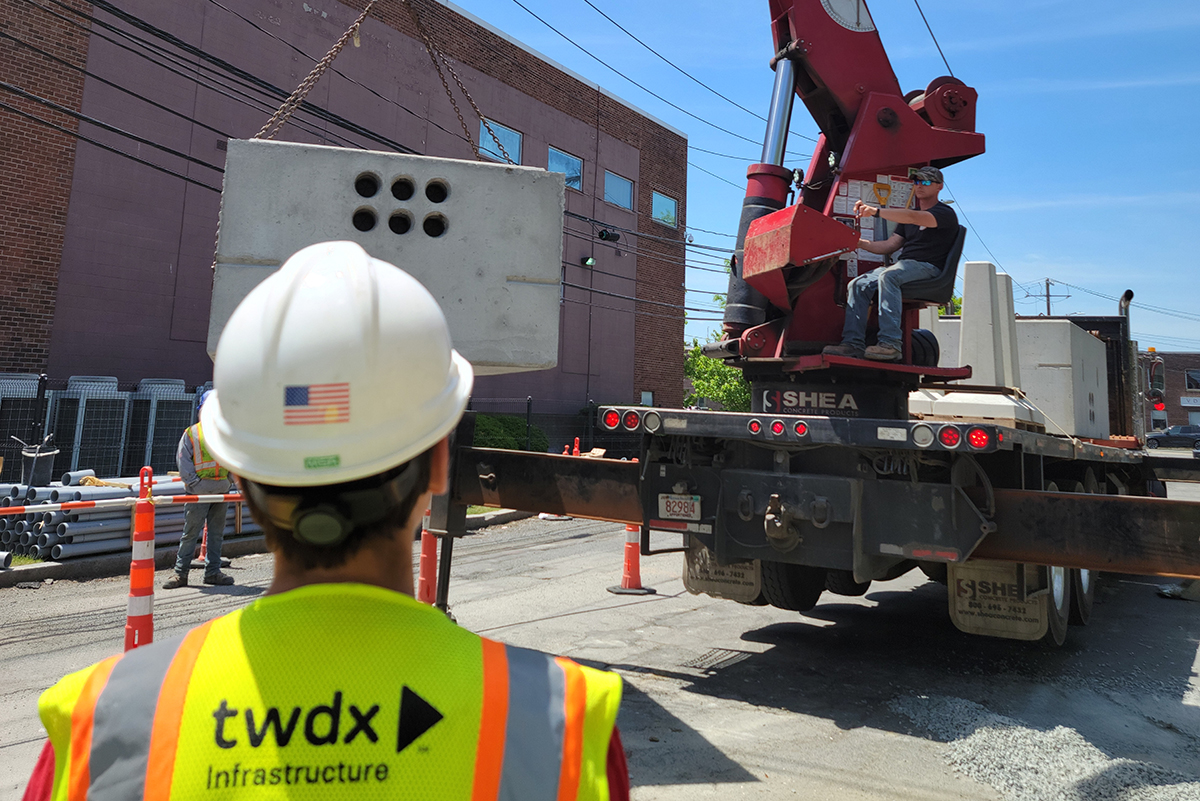 Follow TOWARDEX on Twitter and LinkedIn.  For more information about the Hub Express System, visit infrastructure.twdx.net.
About TOWARDEX
Based in Massachusetts, TOWARDEX is a facilities-based network provider specializing in data center interconnections and high-bandwidth fiber optic communications for the cloud and network-enabled enterprises.   Powered by its sophisticated statewide optical network that reaches every major interconnection facility in the region, TOWARDEX powers the Massachusetts Internet Exchange (MASS IX) to foster the internet peering community and lower the cost of interconnections throughout the Bay State.   For more information, please visit towardex.com .
About TWDX Infrastructure
TWDX Infrastructure, LLC is a wholly owned subsidiary of TOWARDEX, whose responsibility is to construct and operate TOWARDEX owned underground communications utilities, including the Hub Express System. TWDX Infrastructure promotes new generation of competition and connectivity for Boston's internet infrastructure, through open-leasing policies and administering nondiscriminatory access into its fiber optic utilities for the benefit of all licensed telecom providers. For more information, please visit infrastructure.twdx.net.
About Evocative
Evocative is a global leader in Internet infrastructure, providing enterprise-class data center, bare metal, network, cloud, and managed services solutions that enable exceptional digital experiences.  Our global footprint includes interconnected data centers and points of presence across strategically located metros in North America, Europe, and Asia regions.  Our US data center presence spans Boston, New York, New Jersey, Atlanta, Dallas, Phoenix, Los Angeles, Silicon Valley and Seattle with 20 colocation facilities. In addition to colocation services, Evocative provides a full suite of cloud-to-edge infrastructure solutions that power enterprise workloads at the edge. Evocative is dedicated to helping drive digital businesses forward, now and in the decades to come. For more information, please visit evocative.com.
For media inquiries:
Jaymie Scotto & Associates for TOWARDEX
1-866-695-3629 ext. 38
jsa_towardex@jsa.net