Turn-Key Network Infrastructure
TOWARDEX partners with our customers to help them develop highly efficient, purpose-built networks across the Hub Express System.  You can leverage existing footprints of our utilities and our construction expertise to create unique fiber routes and an interconnection infrastructure that is perfectly tailored to your network.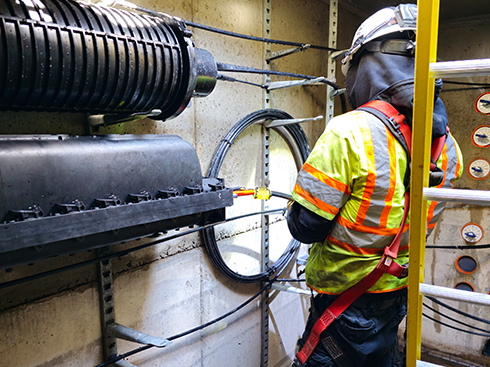 This service is designed for international carriers, subsea network providers and hyperscalers who may currently lack jurisdictional CLEC license and qualifications to meet local franchising or permitting requirements as may be required to install a fiber optic cable in the public way.
With Hosted Fiber Network, we install a fiber optic cable dedicated to the customer in its own private subduct across the Hub Express System in accordance to contract specifications for technical and route requirements.  However, to meet installation and legal requirements, the cable will be owned by TOWARDEX but will be 100% dedicated to the customer, where all fiber strands in the cable and its associated network components (such as splice cases, restoration and ring-cut slacks, etc.) will be leased to the customer as a simple bulk dark fiber lease.
Because we legally own the cable, we are responsible for providing ongoing maintenance and support, including emergency response and repairs in the event of impairment incidents such as line strikes and fiber cuts.
Our Hosted Fiber Network service offers our customers with a cost-effective, hassle-free solution to quickly obtain access to bulk dark fiber, with the security of having private subducts and cable plant dedicated for customer's exclusive private use.
Our lease-to-own service allows customers to quickly install fibers at a significantly lower up-front cost, and retain the option to purchase the asset at the end of its lease term. Under this service, we will install a new fiber optic cable in accordance to contract specifications across the Hub Express System.  The customer will pay a monthly recurring fee to lease the emplaced cable for the duration of the agreement.  At the end of the term, customer may elect to renew the agreement, terminate the lease, or purchase the asset at fair market value. 
To enter into an agreement for Lease-to-Own Fiber Network, the customer will first need to meet all legal requirements of operating as a telecom utility, including having a valid CLEC license, obtaining conduit license and permits from TWDX Infrastructure, and meeting local authority requirements to work in public ways.  The customer will also be responsible for sustainment costs, including operations and maintenance, insurance, local taxes and fees, etc.
"We've created an environment that allows easy entry into Boston's leading and world-class data centers for all telecommunications providers, while expanding capacity and increasing business opportunities for network providers."

Gavin Schoch, General Manager of TWDX Infrastructure
Grow your data center fiber network with TOWARDEX
Talk to our open access infrastructure team to start engineering your deployment today.