Interconnected Data Center Solutions
TOWARDEX provides market-leading and disruptive technology infrastructures for telecommunications, which enable data centers and property owners to realize the full potential of digital connectivity for their tenants.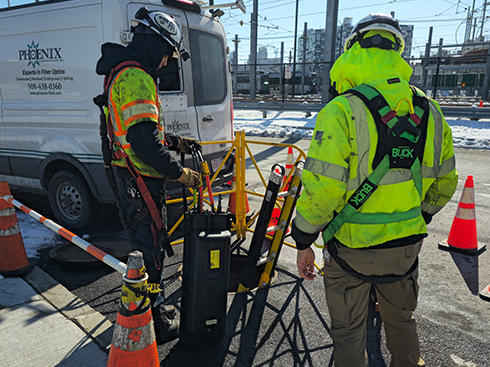 Carrier hotel to the curb: democratization of network interconnection
Leveraging the Hub Express System, we provide the critical foundation for property owners to connect their facilities to a neutral ecosystem of multiple telecom, content, cloud and internet exchanges.
Across the Hub Express System, we license and provide escorted access for network installations in our manholes and underground vaults. Our Fiber Optic Exchange program allows network operators to participate in an open market to sell or exchange bulk fibers between each other, and openly "cross connect" or otherwise setup interconnections in a competitively neutral and nondiscriminatory basis, free of cross-connect fees and restrictive policies often found in Meet-Me Rooms run by traditional carrier hotels.
Open Access Lateral for Data Centers and Property Owners
Our Interconnected Data Center Solutions enable property owners and data centers to order an Open Access Lateral from the Hub Express System.  TOWARDEX, through its wholly-owned subsidiary TWDX Infrastructure, will consider the feasibility of constructing the project at the desired location along with operating issues related to fiber transmission and providing adequate access for network providers.
Leveraging the joint-use infrastructure provided by our Open Access Lateral, we also provide Near-Net Cross Connects in the property.  Using Near-Net Cross Connects at low monthly cost, a tenant at the property can easily reach a nearby fiber provider who is not yet natively built in the building or data center, but has spare backbone fibers available in a Hub Express System manhole out in the street. 
The service enables both the nearby fiber provider and tenants at the property to significantly save costs and time, enabling the provider to better monetize their excess fibers in the street to quickly become "live" at the property on day one, before a full on-net deployment is considered.
Unleash your connectivity potential with TOWARDEX
Talk to our open access infrastructure team to start building your connectivity ecosystem today.